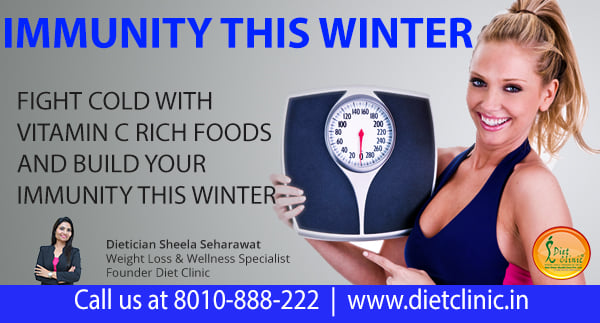 Few people fall sick very frequently during winters or with change of season it is because their immunity is weak. Yes, how frequently you fall sick like cold, cough, fever etc depicts your immunity level. Immunity is your body's power of fighting against diseases. If you want to build your immunity or make it strong then take care of your diet. Vitamin C is the nutrient and an antioxidant that is considered to be important for building immunity.
Apart from this vitamin C plays many other roles in the body like, it assist in the formation of collagen, helps in iron absorption and it lowers the cancer risk etc. Deficiency of this vitamin can result in many mouth and gum problems. Vitamin C is present in mainly citrus fruits like oranges, lemon, lime and kinnow etc. Other sources of vitamin C includes Red bell peppers, green bell peppers, Kale, broccoli, papaya, strawberries, cauliflower, Brussels sprouts, peas, pineapple, kiwi, guavas, dark green leafy vegetables, mango and tomatoes.
Amla also known as Indian gooseberry is also considered to be one of the best sources of this vitamin. Winters are the time when you are surrounded with so many vitamin C rich foods. Choosing a right fruit will help you increase your vitamin C levels.
Vitamin C is a water soluble vitamin that is required for the normal growth and development. As vitamin C cannot be synthesized by the body it needs to be taken from the external sources. It needs to be taken daily in the diet as it does not stay in the body. Keep in mind that fast food will not provide you all the important micro-nutrients your body requires. So, if you are fond of eating these fast foods then it's time for a change. Vitamin C low levels will increase your stress levels. Take salad of fresh tomatoes, spinach leaves and as far as possible eat baked potatoes with skin. So, if you want to be disease and infection free these winters then try these simple tips and raise your vitamin C levels.
If you want to take a juice then prefer the fresh juice with pulp rather than the packed one, as it will be calorie dense. Don't leave orange or citrus juice open in the air because oxidation takes place and causes vitamin C loss. Too much intake of alcohol flushes the vitamin C from the body. Cooking in excess water and discarding the water removes the vitamin C from the foods so cook in less water and for less time as it is heat sensitive. Sprinkle lemon juice over your vegetable/dhal serving and you can take juice in the breakfast with your meal. You can take fruits as such in your diet or you can take it in preserved form. Amla and mango pickle can be taken with your meals. Amla juice can be taken in the morning. Try this and remain disease free.