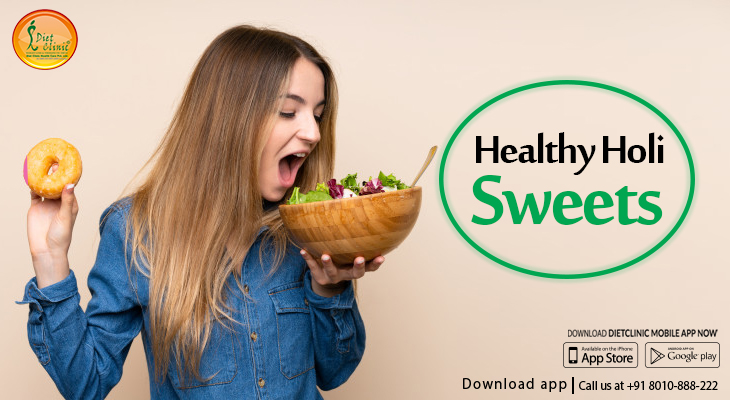 Holi is one festival we all love, not only because of its vivid colors but also for the mouth-watering treats that are unique only to this festival. The feeling of warmth, love, joy and happiness is one thing that this colourful festival brings along with it. Be it the shakarparas or gujjiyas from the north or sweet khichdi, halwa and pooran poli from the west, sweets have always been the trademark of this festival of colours.

Food is an integral part of any festival in India, and when we talk of Holi, sweets capture all the attention. This year during Holi, treat your family and friends with some mouth-watering Holi sweets that are not only tasty but are also healthy.
1. Baked Gijjiya: A unique delicacy served during Holi in a healthy manner. Being baked it is lower in calorie count and with nuts it is high in fiber, antioxidants,
minerals, vitamins, protein and omega-3 fatty acids.
Ingredients:
Semolina : 2 cups
Cardamom powder : 1 tsp
White butter : 1 tsp
Raisins : 1/2 cup
Almonds, crushed : 1/2 cup
Brown sugar : 1 cup
Soda bi carbonate : 1 tsp
Salt : to taste
Onion seeds : 1 tsp
Milk : 1 cup
Wheat flour : 1 cup
Honey : 1/2 cup

Cooking method:

a) Filling:
 Heat 1 tsp white butter in a pan. After the butter melts, add 1/2 cup semolina along with cardamom powder and sauté the mixture by stirring in regular intervals.
 Once the raw smell of semolina is gone, add brown sugar, crushed almonds, and raisins. Mix well and take it off the heat. Keep it aside.

b) Dough:
 Place the remaining semolina in a large bowl and add some onions seeds, salt and soda. Mix well.
 Now add milk and let it soak until the semolina dissolves and turns soft.
 When the above process is done, add in the wheat flour and make a dough (add milk if required). Keep the dough aside for 1 hour.
 After an hour, take some dough required to make 4-inch pooris and roll it using the rolling pin.
 Add about 1 tbsp of the filling on one side of the poori and seal by folding both the edges to make a half moon-shaped structure. You can use a little water while sealing the edges.
 Twist the edges to form a design pattern and repeat the procedure with the remaining dough.
 Now bake the karanjis / gujjias in a preheated oven for 25 minutes at 180 degrees C.
 Let it cool. Dip in honey and serve.
2. Kaju Pista Roll: a delicious cashew and pistachio fudge recipe, a perfect sweet for any occasion. Rich in energy, proteins, carbohydrates and good fats.

Ingredients:
Cashew nuts : 1½ cups
Pistachios : 1½ cup
Condensed milk : 1¼ cup
Green edible color : 4- 5 drops
Clarified butter : 2 tablespoon
Powdered sugar or icing sugar : 1 cup
Kewra essence or rose water : A few drops
Cardamom powder : 2 pinch

Cooking method:
 Powder the cashews in a dry mixer for 1 minute. Note – Grind the cashews in onestretch, till it turns into fine powder. Don't stop in between, this is how you will get fine powder without stickiness. Sieve the powder to get rid of any big chunk left behind. Place a wok over medium flame and add clarified butter. Once butter melts add condensed milk. Stir vigorously for 30 seconds to combine.

 Then add cashew nut powder. Cook the mixture on slow heat, keep stirring for 3-4 minutes until it mixture starts to leave edges of pans and forms into dough.

 Once mixture comes together turn off flame and keep stirring for a minute, allow the mixture to cool. Once it comes to slight warm stage knead it well to make a smooth dough. You may add 1/4 tsp clarified butter to help with kneading. Now grind the pistachios in a mixer to powder. Sieve it to get rid of any lump behind. Transfer the powder in a large mixing bowl add powdered sugar and cardamom powder. Add food color and mix well for form a dough. Sprinkle few drops of water to help in binding.

 Now both cashew nut dough and pistachios dough is ready. Then take wooden board and cut a butter paper of same size. Smear some butter on wooden surface and stick the butter paper on wooden surface. Note- This makes easier to roll the dough
 Divide the cashew dough into two portions and do same with the pistachios dough. Roll the cashew dough into thin sheet.
 Make a cut in cashew sheet to divide into two pieces. Now shape the pista dough into a log and place them over the half cashew sheet. Start rolling them and pinch the edges. Smooth the roll and cut roll into 2 inch long cylinder shape.
3. Apple Kheer: kheer, the most loved Indian dessert, is added with some punch of apples, red grapes and nuts. Eating apples is always good as you get the nutritional benefits from them. Apples improves brain health and diminishes symptoms of Alzheimer's disease. Apples also promote heart health as the juice from apples protect arteries from harmful plaque build-up. They also promote weight loss as they are rich in dietary fiber.

Ingredients:
Apples : 2 Nos.
Boiled Basmati rice : 1/2 cup
Muscovite sugar (you can also use normal sugar) : 50 Gms
Cashew nuts and almonds : 60 Gms
Cassia bark or cinnamon : 1 stick
Red grapes : to taste
Cooking method:
 Chop 2 apples in cubes and put them in saffron infused milk.
 Cook to slightly soften the apples.
 Add 4 tsp brown sugar, 1 cassia bark /cinnamon stick and some cashew nuts and almonds.
 Bring it to a slow boil.
 After some time add half cup of boiled rice, 2 green cardamoms.
 Turn down the heat and let the kheer simmer.
 Garnish it with slices of red grapes.
4. Carrot Ladoo: a healthy and a delicious Indian sweet, perfect for all festivals. It is relatively lower in calorie and at the same time satisfies your craving for sweets. Carrots are one of the best sources of carotene which is a strong antioxidant. Carrots are an excellent source of vitamin A, Vitamin C, calcium and iron.
Ingredients:
Carrot chopped finely : 2 Cups
Coconut desiccated : 1 1⁄2 Cups
Condensed milk : 1 Cup
Almond slices : A few
Rose water : A few drops
Cardamom powder : 2 Pinches
Ghee : 3 Tbsp

Cooking method:
 Chop the carrots very finely, preferably in a food processor or a hand grater.
 Sauté desiccated coconut in a wok for 5 minutes till it releases aroma.
 Add the chopped carrots to the wok and sauté on medium flame for about 10 minutes or until it gets cooked and tender.
 Now add some nuts of your choice, almonds slices have been used here.
 Add half of the condensed milk, mix well until all the condensed milk is absorbed. Add rose water, cardamom powder and rest of condensed milk and sauté till the condensed milk is absorbed .You will observe that the mixture is turning sticky enough to roll small balls out of it.
 Switch off the flame. Cool the mixture slightly.
 Grease your palms with little ghee & roll out your ladoos of a size you want to make.
 Sprinkle some chopped nuts and coconut on top to garnish and serve.

5. Kesar Badaam Milk: a rejuvenating and flavorful sweet drink, is enriched in nutrients and is very energetic. You can replace the sugar with honey for healthier option, if you are on diet. Milk with saffron and almonds is known for its health benefits. Saffron has digestive, anti - oxidant, antiseptic and also anti - depressive properties. Almonds have Protein, Fiber, Vitamin E, Manganese and Magnesium.

Ingredients:
Milk (whole or low fat) : 3 cups (700 milligrams)
Almonds : 20
Saffron : 2 pinch
Sugar : 2 tablespoons (adjust to taste}
Rose essence : Few drops
Hot water (for soaking) : ½ cup
Thinly sliced almonds for garnishing : 1 teaspoon
Saffron strands for garnishing : A few

Cooking method:
 First soak saffron in hot water and keep it aside for 30 minutes. Now soak the almonds for 20 minutes in hot water. Soaking in hot water helps in peeling the skin of almonds. Now blanch the almonds. Add the almonds to the grinder and add 2- 3 tablespoon of milk. Grind it until forms smooth mixture.
 In a heavy bottom pan, bring milk to boil. Simmer on low heat for 10-12 minutes.Make sure you stir it intermittently to avoid burning and sticking at the bottom. Add almond mixture to the milk stirring continuously until mixed well.
 Add saffron water, sugar and rose essence. Stir it well. Simmer until milk is reduced to 3/4 amount. Milk is ready to serve. Garnish with sliced almonds and saffron strand. You can serve this milk hot or chilled.
Best Dietician in Gurgaon | Dietitian Nutritionists In Gurgaon | Top 10 Best Dietitians in Gurgaon | Dietitian in Gurgaon | Best Dietitian in Gurgaon | Best Dietitians and Nutritionists | Best Dietitian in Gurgaon | Best Dieticians in Gurgaon | Dietitian in Gurugram | Best Nutritionists | Best Dietitian Nutritionists in Gurgaon | Best Dietician in Gurgaon