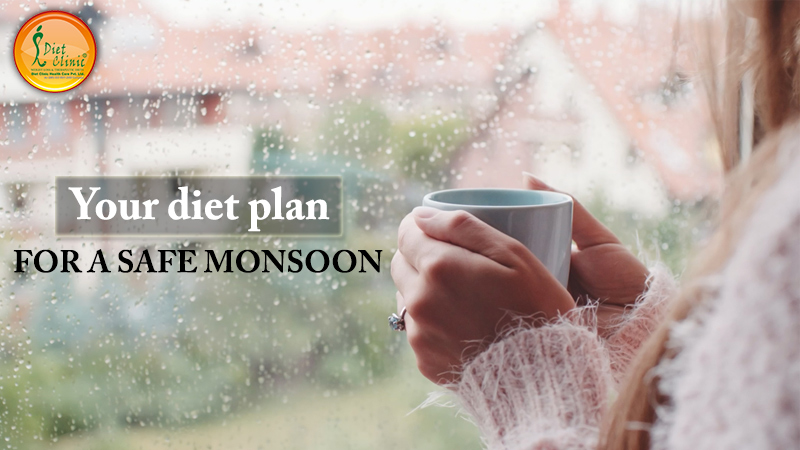 You are relieved that the extreme summer season is finally gone and it's raining. You are probably even thinking about all the hot and spicy food you want to eat now that it's not so hot anymore. But did you know that during the monsoon season your digestive system is the weakest? Did you know that during this season the chances are the highest of you getting food poisoning? Therefore, following a healthy diet plan is extremely important during this time of the year.

The best dietitians in India suggest you include the following things in your monsoon diet:
Seasonal fruits: Seasonal fruits like pomegranates, litchis, plums, etc. should be included in your everyday diet. Summer season fruits like mangoes and watermelons should be avoided during the monsoon.

Bitter vegetables: Bitter veggies like karela (bitter gourd), herbs like neem, etc. contain antioxidants and therefore are very important especially during the rainy season. It is very important to keep your system clean, especially during this season.

Boiled homemade food: Oily or deep-fried food should be avoided during this season as the digestive system becomes weak due to the humidity. Therefore, homemade food made with very little oil, preferably boiled, should be consumed.

Lots of water: Staying hydrated is must no matter what season it is. Drink water, it will keep your system clean. This will even help you have better skin and hair during the monsoon season when breakouts and hair fall are the most common things. Try to have boiled drinking water, this kills the harmful micro-organisms present in the water.

Herbal drinks: Include herbal drinks like jasmine tea, green tea, etc. in your diet this monsoon. Replace coffee and normal tea with these drinks. Avoid having coffee, both hot and cold, as it dehydrates your body and if you have milk tea with sugar regularly, well, it's not healthy either.

Avoid having the following items during monsoon:
Fish and prawn
Street food
Deep-fried food
Fruits cut open for a long time
Green leafy vegetables

Enjoy the rainy season for as long as it lasts. Eat healthy to make sure a stomach infection or food poisoning doesn't spoil the monsoon season for you. Prepare yummy light dishes at home, maybe a healthier and more hygienic version of the street food that you're craving during this season. Have a healthy and happy monsoon!