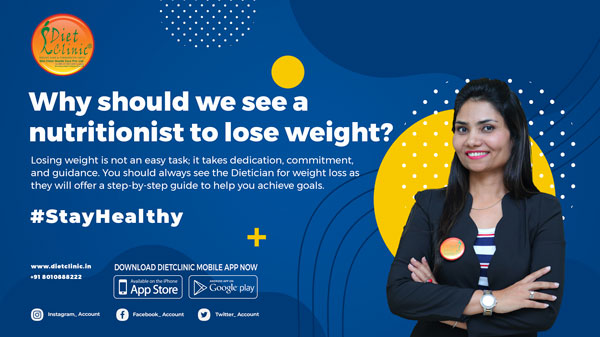 Losing weight is not an easy task; it takes dedication, commitment, and guidance. You should always see the Dietician for weight loss as they will offer a step-by-step guide to help you achieve goals. There are many weight loss tips that only dieticians know. When you contact a diet clinic for the best dietitian for weight loss, she will not put you on a diet. Instead, she will slowly change your habits, and that will become a lifestyle that can be maintained forever. Below are some tips that only a dietician can make you understand:
1. Make lasting lifestyle habits
Best Dietician in India explains that the best way to lose weight and maintain weight loss is to make long-lasting habits. Small changes in diet and lifestyle will help you to lose weight. You should add exercise; you should also swap high-calorie desserts with fruit. The main point is to be mindful while you eat.
2. Avoiding specific foods do not work
Expert Dietician explains that staying away from some specific food items will not help you lose weight. Instead, considering the overall diet and caloric balance you burn every day will help you. You have to make a proper plan and should increase your exercise day by day. Never skip your exercise routine.
3. Focus on self-care
Not only a healthy diet plan but a Dietician will help you to focus on self-care. This is the best way to boost your self-esteem, and people will take better care of themselves. By following this, people will sustain improvements in healthy behaviors.
4. Portion size matters a lot
Many times by giving up some foods haven't helped people to lose weight. There are many food groups that are healthy but can cause weight gain in case you overeat them. When you contact Dietician for weight loss, they give you a customized diet plan with proper portions. They will guide you with appropriate serving according to your body needs.
5. Mindful eating is a must
Everybody has different nutritional requirements as well as food preferences. Every person's ideal diet will be different, and thus, mindful eating is necessary. Diet clinic experts always suggest mindful eating and help people consume fewer calories, leading to weight loss.
6. Consume protein
A nutritionist will always suggest consuming protein as the first meal of the day. It will help people to keep themselves satisfied, and they will be less likely to overeat later. A healthy diet plan suggests by a dietician will include a protein-rich breakfast like hard boil egg, plain Greek yogurt, a bowl of oatmeal, etc.
It is important to see the best Dietician in India to lose weight. They will help you lose weight by developing a healthy diet plan and specific foods that will be most beneficial to increase lean muscle tissue and shed excess fat. A dietician will interact with you and answer all or any nutrition and caloric need questions, which will help you reach your weight loss goals.