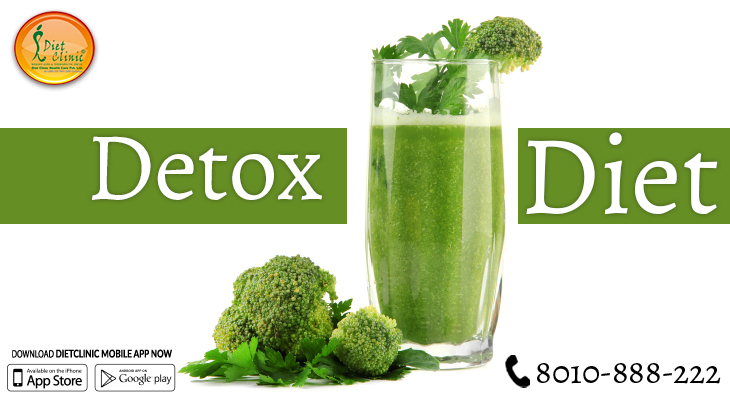 Detox Diets Packages
The word detoxification is spoken in short as detox. This detox diet is taken to eliminate toxins from the body. It simply means to remove toxins from bloodstream, liver, kidney and intestines by means of your strict diet.
It is very important and necessary for your system to get detox from time to time. In our daily life, we ingest a lot of toxins through the air, food and water. The increasing use of pesticides, chemicals, preservatives, additives in food and drinks and pollution in the air cause deposits of toxins into our fat cells.
At times if our diet is inadequate in nutrients, it can lead to illness and health issues. Signs of this include indigestion, headache, skin problems, tiredness, fatigue, poor concentration. Diet is just one component of any well-designed cleansing.
Diet clinic suggests you how to start a detox, which detox program is right for you, what to eat before the Diet, which foods have to be avoided.
Detox Diet also known as cleansing diet will remove toxins and poisons from your body. The idea of a good detox diet is to eat pure and natural foods that will aid the function of lymph, kidneys, and liver. So, everyone wants to increase his or her energy, detoxify their body, lose inches & a few kilos, and reclaim their health!
The diet is very restrictive, and the daily calorie intake is much less than what you would typically consume. A person could lose several pounds weekly while detoxing. It helps you to overcome medical conditions like: High Blood Pressure, Irritable Bowel Syndrome, Headaches and Migraines, Eczema, Psoriasis and Skin Disorders, Rheumatoid Arthritis.
We, at Diet Clinic, know that your body is confronted by various toxins in our environment. Sources include the food we eat, the water we drink, and the very air we breathe. Many of these toxins are difficult to metabolize and build up in the body over time. Eventually these compounds affect the body's ability to digest, metabolize, and regenerate.
We know the result of toxic build up. Your body slows down and your systems become stressed. One feels tired all the time, sleep isn't restful, and you start to pile on the kilos. Diet Clinic's Detox diets program is specifically designed to address these issues. As we say –No Starvation, no Medicines, no Exercise, no Monotonous Diets.
How It Works:
As soon as you book the package and fill our registration form at clinic or online, you will meet or get a call from a Dietician / Nutritionist. (Form will help us understanding your dietary, physical and medical activity, which you are required to fill). She will also ask you some basic questions about your lifestyle and discuss your medical history. However, this can also be done through telephonic conversation.
After analyzing your lifestyle, we will chalk out the diet plan (that suits you the best) and will give or send you 3-4 days plan, you are required to give us feedback on the plan and report the weight loss on your next visit or one day before by email, whatsapp, sms when your are getting diets online or telephonically
How long the treatment takes and What can you expect?
This is a 30day long program, wherein the diet plans are meticulously planned as per the client need so every plan is unique and fresh. At one time, we give 3-4 days diet plan and you can expect to lose 1/2 to 1 kilo per week based upon your metabolism. Every week, we plan the diet after consulting you and considering your feedback. Overall, you can expect to lose 3-5 kg and few inches in 30days time.
OUR USP: Unlike other diet programs,
1) We will be giving/ sending 3-4 days diet charts at a time.
2) We will be sending healthy and easy to prepare recipes too. (You can get it from our diets cook book, or from our website).
3) There will be no crash diets.
4) Diet plans will be based upon your BMR.
5) Our dietician is available on phone / Whats App from 9 am -6 pm IST, Late hours on request or only for international clients.