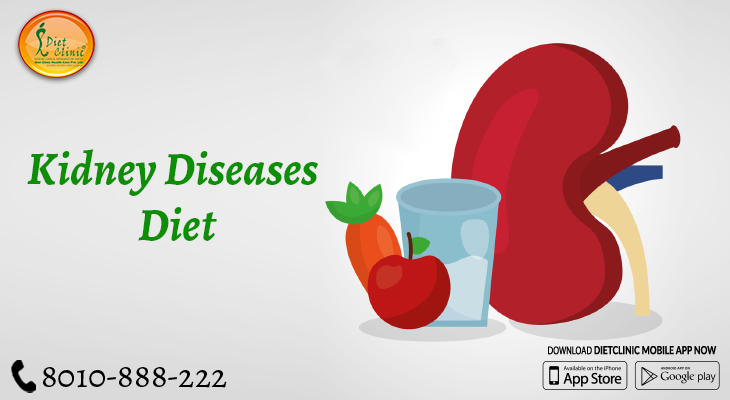 Kidney Diseases Diets
Diet Clinic is providing special diets for people suffering from renal issues. Diets chiefly consist of moderate ratios of sodium, potassium and creatinine content as they are very helpful in the early recovery from the kidney related issues. Excessive green leafy vegetables are prohibited and take a plenty of water for better digestion and proper functioning of the plan. Our diet plan is not an alternate to any medication and helps in treatment of the disease. Talk to our expert on our national toll free helpline number.
Kidney is one of the vital organs of our body that cleanses your blood by removing waste and excess fluid, maintains the balance of salt and minerals in your blood, and helps regulate blood pressure.
If there is problem in the kidneys then the levels of waste products like uric acid will increase and soon body will have problem like gout or arthritis. It is also found that fluid increase in our body causes swelling in your ankles, vomiting, weakness, poor sleep, and shortness of breath.
If left untreated, kidneys may eventually stop functioning completely which can be fatal condition. You can regulate your kidney by regulating your diet.
It is important to have a "kidney-friendly" meal plan when you have chronic kidney disease. Watching what you eat and drink will help you stay healthier. The requirement of nutrition depends on the body size, activity, the stage of kidney disease and other health concerns.
It is important to eat healthy and keep well nourished. Your dietitian at Diet Clinic can help you create a diet to fit your needs.
We know how to include:
• Limiting fluids
• Eating a low-protein diet (this may be recommended)
• Restricting salt, potassium, phosphorous, and other electrolytes
• Getting enough calories if you are losing weight
At diet clinic, we help you with diet plan that can maintain a balance of electrolytes, minerals, and fluid in patients.
Patients on dialysis need this special diet to limit the build-up of waste products in their body. Such patients urinate very little or not at all which can be dangerous so dietitian can help them better.