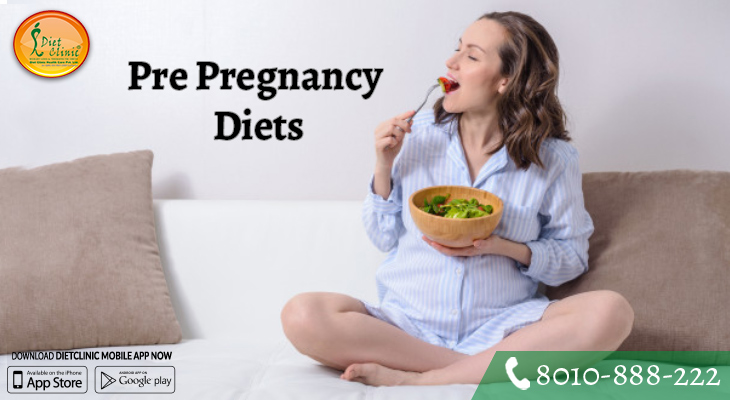 Pre Pregnancy Diets
Healthy diets are important for a woman who is going to plan a pregnancy. Better immunity is required for her, so that she might become less prone to infections and diseases. Obesity is another reason for infertility, therefore it is important to lose weight to conceive a child. Diet Clinic ensures that you should lose weight before you plan for pregnancy and for this purpose we have prepared specialized diets before pregnancy. We customize diets as per the lifestyle and eating habits of the client so that you lose weight and recharge immunity; along with enrich your body with nutrition with zero starvation.
Planning is a must in life even when you are thinking to have a baby. For a healthy pregnancy it is important to plan everything and know all the best. It is not just the duty of the lady but of her family too to know and support her in taking the right nutrition.
A balanced and healthy diet will help in gaining immunity to the body and make it less prone to infections and diseases.
A common problem is that woman is over-weight. That sometimes becomes a big issue in conceiving a baby. They really need the counselling from dieticians.
Here at Diet Clinic we give diet plans based on the individual blood group, eating habits and lifestyle of the woman. We have customized Pre-Pregnancy Weight Loss Programs to provide any woman effective weight loss by choosing the right foods that give lesser calories but complete nutrition. This improves her overall well-being and helps her body to plan pregnancy.
Some tips that should be followed are as listed below
1.Eat 5 – 6 equally spaced, small meals instead of 3 heavy meals.
2.Use combination of whole grains, grams and greens.
3.Take 3- 4 servings of fruits & vegetables daily. Fruits & vegetables are a rich dietary source of vitamins and minerals and also provide enough fibre.
4.Take fibre foods and drink lots of water to avoid constipation.
5.Include milk and milk products to ensure sufficient calcium intake to make bones stronger.
6.Use healthy oils like sunflower oil, mustard oil, olive oil for cooking.
7.Do not skip breakfast, have a proper balanced lunch and dinner should be the lightest.
For more such tips on weight management, try out our pre-pregnancy diet plans with no starvation, no monotonous diets, no strenuous exercises and no medicines as only a healthy mother can give birth to a healthy baby and spread happiness around.