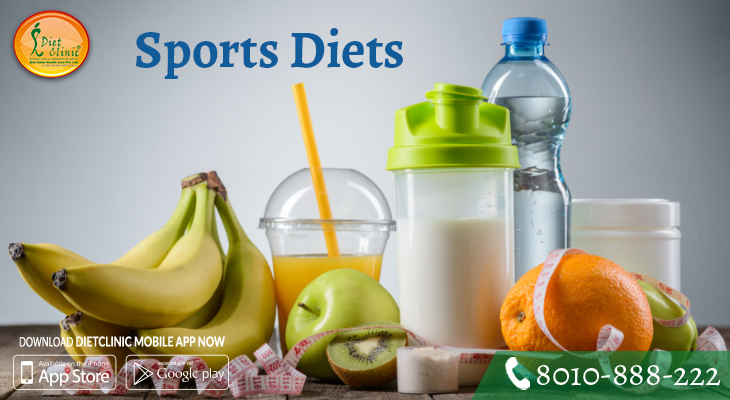 Sports Diets Packages
A sportsman needs more special diet as he has to perform with subtle accuracy and stamina. For better performance and endurance his body must be enriched with essential nutrients. For a proper stamina build up, along with physical practice he requires essential vitamins and minerals. Sports are not only physical activity but a mental involvement is also a vital part of the sports, so healthy diets that help in development of rational faculties are necessary too. Diet Clinic is helping sports person to achieve success and fame with our sports diets.
A healthy balance diet and nutrients helps them gain stamina and energy in their respective game. It is important to avoid junk food and aerated drinks. It is good to eat as much fresh food as possible. Sportsperson should focus on their energy requirements and prevention of injuries caused due to nutritional deficiencies.
Each sportspersons uses different parts of the body as per the requirements of their respective sports so they require different levels of physical fitness and energy.
If the sport person is in more physical activity, then as per that their level of intake and requirement will increase. That is why the topic of sportspersons diets is a complicated topic.
If your diet is not as per your physical activity then soon you can feel exhausted and perform poorly during sports. Eating well with enough fluids can help you. Your diet also depends on the amount of training and the time you spend in the activity or exercise.
At Diet Clinic, we know all the energy you need for sports, exercise and training. We know;
Athletes need to eat a variety of foods to achieve peak performance.
Athletes gain most from the amount of carbohydrates stored in the body.
Fat also provides body fuel; use of fat as fuel depends on the duration of the exercise and the condition of the athlete.
Exercise may increase the athlete's need for protein.
Water is a critical nutrient for athletes. Dehydration can cause muscle cramping and fatigue.
Diet Clinic will help one in choosing the right food for their fitness plan in the right amount. Many sportspeople tend to eat high protein foods as well as protein supplements to strengthen their muscles and build up strength. However they tend to forget that the high protein intake has to be in a certain limit and balanced by other fibre foods and carbohydrates in such a way that it does not lead to problems like constipation and gases.
Here comes the role of Diet Clinic which has dieticians trained in sports nutrition to help you with the right diet for you. Diet Clinic also has a couple of dieticians who provide diet counselling at different gyms and fitness centres.