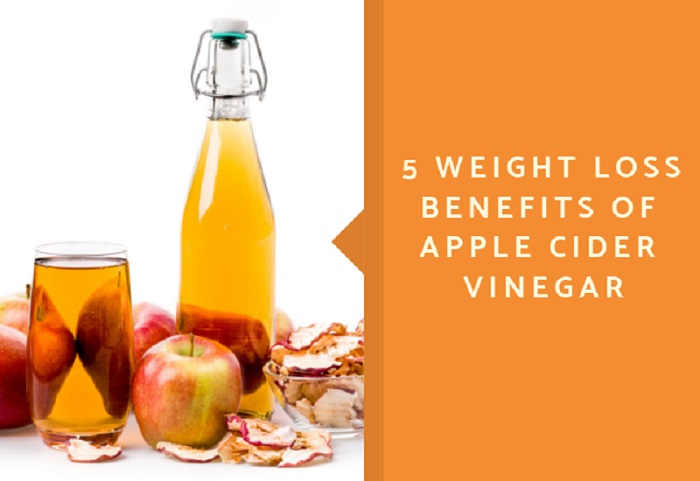 You all must have been wondering that what has apple cider vinegar go to do with fat loss. Then, let us tell you that if there is something that can closely be called as a 'wonder drug', than this is it – Apple Cider Vinegar. It is one of the most effective natural fat burning condiments that we store at our house.
It is the tart smell of apple cider vinegar that puts many off and hence we ignore its use and stay unaware of its numerous benefits from health to weight loss. The final product is created from ripped apples, which are fermented and goes through various stringent processes for the final outcome. The final end product naturally contains vitamins, pectin and different minerals including potassium, magnesium, calcium and phosphorous. And, each of them is needed by the human body for optimal functioning.

How does apple cider vinegar aids in weight loss?
Acetic acids is the main active compound present in apple cider vinegar. It is a very strong compound that is peculiar in its taste and odor. Studies conducted on the subject reveals that acetic acid present in the apple cider vinegar promotes weight loss in various ways. Dietician Sheela Seharawat of Diet Clinic shares some of the many ways how apple cider vinegar helsp in weight loss:
1. Helps you control your appetite

Acetic acid is a natural suppressant. When it gets into our body, it seriously curbs our food cravings and the desire to eat more. Low blood sugar levels could be blamed for low carvings, whereas, apple cider vinegar helps maintain normal blood sugar levels, cravings turn almost nil. As far as weight loss is concerned, when the body does not carbs for that extra sugar and empty calories, there are no chances of any extra weight gain too.
2. It helps improve your metabolism

It is a great aid in speeding up your metabolism. Since it promotes weight loss, we need more and more improved metabolism to support it and this cycle continues. With faster metabolism, we intent to lose more fats from the body. An endless cycle continues.
3. Keeps us satiated by creating a feeling of fullness

Many a times we get the feeling that we are full after eating our meals and just after a couple of hours we feel hungry again. But having apple cider vinegar, we do not have that feeling. It helps us keeping full and satiated for longer without the urge to have more food. Anything that gives us such feeling of fullness, helps us not eating more and unnecessary.
4. Affects regulation of insulin

Apple cider vinegar has been attributed to control and improve sensitivity towards insulin. It does not allows the blood sugar levels to drop so low that it in turn affects us. Also, the body works better when the insulin sensitivity is good and this further helps in weight loss. The inflammation levels of the body are also duly controlled because of it.
5. It is helpful for diabetics

Weight loss is a big factor that works for controlling and reversing the effects of type 2 diabetes. People with diabetes need to constantly monitor and control their blood sugar levels and apple cider vinegar does exactly the same. Diabetes forces us to lose control over our blood sugar levels and this vinegar helps us exactly with this. It prevents the sugar that we eat to reach the cells so that it can be used as energy.
Now, you know that apple cider vinegar helps in weight control and weight loss, try o take some before your meals. There are other weight loss and health benefits that one can reap out of apple cider vinegar. It also contains malic acid that is highly beneficial in the treatment of bacterial and fungal infections. Why not give it a try to belief what is said?
`