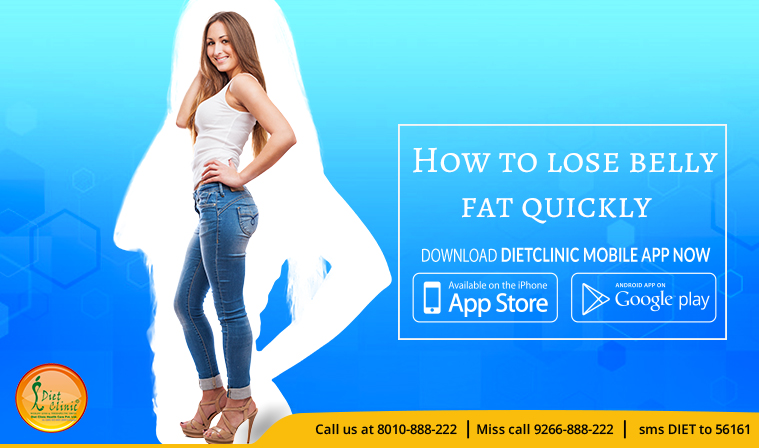 Everywhere around the world, people are scorching over the internet to find out easy and fast ways to lose belly fat. But, at the same time all are not wary of the fact that easy and fast ways are often at times ineffective and dangerous too. You need to administer precaution for the same on what product or plan you adopt.
Acclaimed dietician and founder member of Diet Clinic, Sheela Seharawat shares in here some effective and simple ways that you could adopt in your daily lifestyle to lose belly fat. She says that many try very hard to lose belly fat through exercise, but it is not enough. What you need is a balance combination of targeted workouts and a balanced diet.
So, what is the best way to burn belly fat?
The key to losing belly fat fast and effective is through a perfect diet plan. Whether you believe it or not, it is true. Well, saying so, it is also important to consider that not all diet programs are same and not all are meant for everyone. You need a personalized one that has been especially worked out on and for you.
It is so, because not everyone is same and also not that everyone have the same requirement. Some might need to shed some for medical reasons and some, just because they have too much and are obese. It why a personalized diet plan that are framed out with specific targets are of prime importance for the best results.
Note as per the best dietician in Faridabad:
Never opt for fast and easy ways to lose belly fat like supplements and pills. These only helps you lose the water weight, whereas, the actual fat is still there. Moreover, pills and supplements do not impose change in your eating and lifestyle habits and the moment you are out of them, for sure you are going to gain what you may have lost as you will develop serious cravings for certain foods.
Best and fast ways to lose belly fat
Fat around the belly region is one of the fats and hardest to lose, and thereby, it needs careful consideration in losing it. Follow the below mentioned tips for better and effective results:
Drink plenty of water: water is the best aid in not losing belly fat effectively, but also to manage other health issues and problems. Water is the best detox we could ever have. It removes all the excess salt, sodium and toxins that builds up in the body. It does not allows the stomach to bloat. Drink minimum of 4 liters of water a day for better results. Natural and fresh juices and other liquids like green tea is a good option to lose belly fat.
Reduce your salt intake: Salt causes bloating in the stomach that is obvious. Consuming lesser salt is good for health and keeps blood pressure in normal range and also aids in losing belly fat.
Eat foods rich in fiber: Fibers helps keeping you fuller and satiated and does not allow you to overeat. Fruits, beans, corns, nuts and seeds, vegetables and legumes are good sources of healthy fibers that you must consider in your daily diet for effective fat loss from the belly area.
Exercise: aerobics and cardiovascular exercise routines into your daily routine. These targeted exercises focusses on the belly zone and helps lose belly fat, fast and safe.