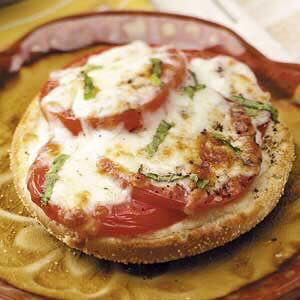 INGREDIENTS
2 English muffins, split and toasted
2 tablespoons fat-free mayonnaise
3 plum tomatoes, cut into 1/4-inch slices
6 fresh basil leaves, thinly sliced
1/8 teaspoon pepper
1/2 cup shredded part-skim mozzarella cheese

METHOD
Place English muffin halves on an ungreased baking sheet; spread with mayonnaise. Top with the tomatoes, basil, pepper and cheese. Broil 4 in. from the heat for 3-4 minutes or until cheese is melted.Yield: 4 servings.
Originally published as Tomato Basil Snackers in Light & Tasty June/July 2007, p51
Nutritional Facts
1 serving equals 118 calories, 3 g fat (2 g saturated fat), 9 mg cholesterol, 261 mg sodium, 17 g carbohydrate, 1 g fiber, 6 g protein. Diabetic Exchanges: 1 starch, 1/2 fat.